Home » Iwata Eclipse Pistol Grip G3 Airbrush
Unique "Pistol Grip" airbrush-guns, the Eclipse G-Series look like miniature spray guns, but spray and perform like a large airbrush.
The G-Series Airbrush Guns work with most twin-piston airbrush compressors like the Iwata Studio Series Power Jet Compressors.
True center-post gravity-feed airbrush with adjustable air inlet
0.3-mm stainless-steel nozzle
Twilight-chrome finish
Works well with the Iwata Studio Series Power Jet and Power Jet Lite Compressors.
Kit Includes:
Iwata Eclipse G3 Pistol-Grip Airbrush-Gun
4oz. Stainless-Steel Cup and Lid
| Paint Reservoir | Nozzle | Trigger Action | Spray Pattern |
| --- | --- | --- | --- |
| 4 oz. (100 ml) Stainless Steel Cup | 0.3-mm Screw-In Nozzle | Fixed Double-Action | 1/8 in. to 2 in. (3-mm to 50-mm) Round or Oval or Fan |
Features
Optional Features
Product Name
Item No.

Stainless Steel Paint Passage
Pre-Set Needle Adjustment
Fan Pattern Adjustment
Cartridge-Style Air Valve Set
Fan Pattern Air Cap

Reseviors:

8 oz. (225 ml) Aluminum Steel Cup

Iwata Eclipse G3
ECL 9100
Eclipse Nozzle/Head Assembly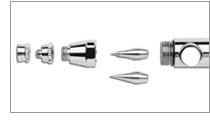 The drop-in hardened steel nozzles are self-centering for perfect alignment and quick, easy assembly. High-paint flow, coupled with ultimate control through the entire spray range, is Iwata's trademark with the Eclipse style of airbrushes. Now, with the new interchangeable 0.35-mm high-flow nozzle/needle combination, even finer detail and control can be achieved. Excludes the Eclipse G6.

Click here to download the Eclipse G3 parts guide in pdf format.

Rex Price:
$555.03
Save 32%!

Join the Rex Art mailing list
Share: